Posts Tagged 'tech'
This is a duplicate of a high-performance computing blog I authored for HPE, originally published at the HPE Newsroom on June 1, 2021.
Join us at HPE Discover 2021 to learn how innovative high-performance computing (HPC) solutions and technologies are driving digital transformation from enterprise to edge.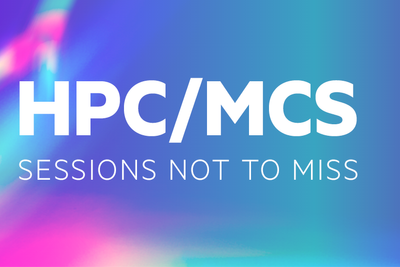 As our premier virtual event, HPE Discover 2021 is where the next wave of digital transformation begins—and high-performance computing is playing a critical role in that transformation. Join us for three days packed with actionable live and on-demand sessions, key announcements, and much more.
How HPC and supercomputing is accelerating digital transformation
Welcome to the exascale era, where HPE HPC solutions scale up or scale out, on-premises or in the cloud, with purpose-built storage and software. Today, HPC is powering innovation for artificial intelligence, scientific research, drug discovery, advanced computing, engineering, and much more. This means all your workloads within your economic requirements.
Ready to learn more? Here's a list of recommended spotlight and breakout sessions plus demos to help you plan your Discover 2021 experience—and dive into all things HPC.
Top recommended HPC sessions
Unlocking insight to drive Innovation from edge to exascale SL4447
The next wave of digital transformation will be driven by unlocking the full potential of data using purpose built software and infrastructure that speeds time to adoption and rapid scaling of HPC, AI, and analytics. Please join us to learn how HPE is enabling this data driven future from edge-to-core-cloud, at any scale—for every enterprise.
Challenges scaling AI into production? Learn how to fix them B4452
If you're struggling to unlock the full potential of AI, spend 8 minutes with us to learn how to move past the most common challenges and achieve AI at any scale.
Accelerating your AI training models B4424
Training AI models are often both compute and data intensive due to the massive size and complexity of new algorithms. In this session learn how new innovation from HPE workload optimized systems, such as in-memory capability paired with mixed acceleration, dramatically speeds up ingest and time to production for these AI models.
From the world's largest AI machines to your first 17″ AI edge data center DEMO4459
In the age of insight AI is everywhere. HPE provides end-to-end AI infrastructure for all environments for organizations of all sizes for all industries or mission areas. This session gives an overview of the portfolio and demonstrates AI solution examples from initial adoption to large scale production.
Unleash the power of analytics for your enterprise at the edge B4451
Unlocking insights from data has never been more critical. Soon the majority of new enterprise data will be created outside of the data center or public cloud, at the edge. Learn how HPE helps customers gain insights with AI at the edge in a variety of use cases and with the flexibility to consume as-a-service.
Hewlett Packard Labs and Carnegie Clean Energy revolutionize wave energy with reinforcement learning B4365
Wave energy capture brings the unique challenges of complex wave dynamics, modelling errors, and changes of generator dynamics. Hear from Hewlett Packard Labs and Carnegie Clean Energy on their mission to develop a self-learning wave energy converter using deep reinforcement learning technology—pushing trustworthiness in the next generation of AI.
Live demos
We will also be featuring live on-location demos at Chase Center and the Mercedes Formula 1 Factory, scheduled to take place on June 22 or 23 (depending on which region you're joining from). During the times specified below, HPE will have experts available to help answer your questions.
AMS: 11:00 AM – 11:45 PM PDT and 11:45 AM – 12:30 PM PDT on Tuesday (Day 1)
APJ: 2:30 PM – 3:15PM JST and 3:15 PM – 4:30 PM JST on Wednesday (Day 1)
EMEA: 12:30 PM – 1:15 PM CET and 1:15 PM – 2:00 PM on Wednesday (Day 1)
Interested in other sessions? We invite you to explore the full line-up of sessions on our content catalog and build your own agenda. You can also view the agenda for each region here.
Build your playlist
Want to build your own playlist? Here's how. Once registered for HPE Discover, log in to the virtual platform to view each of the keynotes, sessions, demos, etc. You can filter based on content type, areas of interest, or keyword search, etc. Then simply click on the "+" icon to add the item to your My Playlist. You can also download your playlist into your preferred personal calendar.
We look forward to seeing you virtually at HPE Discover 2021!